Slots LV Casino Review For 2023
As its name implies, Slots LV is all about the classic slot-centric casino experience. Of course, if you read our 2021 Slots LV Casino review, you'll see that the site has a lot more to offer than electronic online slots. There's online blackjack, roulette, baccarat, craps, live-dealer games, and many other markets to choose from, too.
That said, SlotsLV is definitely more focused on the RNG – or "Random Number Generation" – market than some competing offshore gambling sites, and it's limited to casino action only. Still, for US players looking for a legitimate offshore casino site, Slots LV remains a top option. While the site doesn't do everything, everything it does do, it does well.
Is SlotsLV Casino Legal For US Players In 2023?
In America, domestic online casino gambling – or iGaming – is an untapped market. Only a handful of states have legalized the pastime, and if you live in any other state, you're out of luck. Of course, as all seasoned slot players know, you're never out of luck: Slots LV is safe and legal to access for all US players aged 18 and up (with the exception of those living in Washington state).
There are no federal offshore gambling laws that bar United States players from accessing legitimate online casino sites operating outside US borders, and there's no special offshore casino license required for operators in the space. So long as the site you choose is time-tested and follows industry best practices, you're good to go.
Note: Slots.LV currently does not accept players from DE, MD, NJ, NV, or NY.
Operates out of Costa Rica, a renowned international offshore gambling destination
Independently owned and operated offshore gambling website
Founded in 2013 – Has withstood the test of time
US players welcome at 18+
Uses best in class SSL and TLS security standards for all connections
Employs KYC (Know Your Customer) standards to protect all members
Private personal + financial info is never shared or sold
US-friendly legal banking methods including credit, debit, cryptocurrency
Valuable bonuses with fair playthrough requirements
Payouts guaranteed on time and in full
Same-day payouts for crypto withdrawals
100s of online slots and real-money gambling games
20+ online live-dealer casino games
Flexible betting limits for players of all means
Round-the-clock online slots tournaments + online blackjack tournaments
All games developed by Realtime Gaming, an electronic casino game pioneer since 1998
All games regularly audited for fair iGaming compliance + real-world win rates
All games offer free-to-play modes, no membership required
Full mobile compatibility for iPhone, iPad, and Android devices
No geofencing – Play from anywhere in the United States
24/7 online help desk
Not available to players in DE, MD, NJ, NV, NY
Limited deposit options compared to some competitors
Online casino bonus options could be more varied
No offshore sports betting options or offshore poker room
No offshore horse racing betting
Casino Games Reviewed At Slots.lv Casino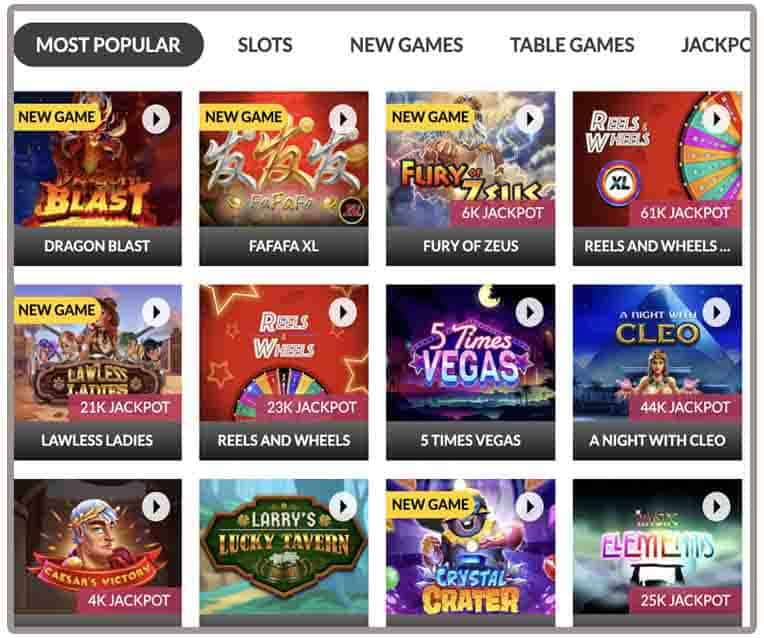 Legitimate offshore casino sites are only as good as their game selection, and the games available at Slots LV are some of the best in the business. A lot of sites we review employ at least some games from Realtime Gaming (RTG), as RTG has established itself as the premier offshore gambling developer. RTG also makes many of the electronic casino games for the brick-and-mortar gambling industry, and SlotsLV exclusively offers titles made by the brand.
These games are all regularly audited to guarantee they're fair iGaming compliant and have realistic win rates and true random outcomes, but it'd be nice if SlotsLV also included a selection of titles from other game makers. Still, if you're going to go all in on a single dev, RTG is the best one around.
At Slots LV, you can obviously expect a host of online slots, but the site also has all the classic card games and table games you expect, including online blackjack, online roulette, baccarat, mini-bac, and much more.
Slots.lv Casino Games FAQ's
With a focus on Internet slots, it's not surprising that Slots.LV has a huge assortment of 3-reel, 5-reel, 3D, iSlots, and progressive jackpot slots on hand. In all, there are currently 100+ online slot machine selections, though new titles are being added all the time, while older and less popular games are occasionally retired.
No. All the electronic slot games at SlotsLV are developed by Realtime Gaming (RTG), which is the foremost casino software company in the world for both online and brick-and-mortar gambling venues. RTG has been around since 1998, and all their games are regularly audited by the company and by third-party industry watchdogs to ensure fair play.
Yes. Like all games at the site, Slots.LV blackjack is completely legitimate. The decks are randomly shuffled, and the deals always reflect real-world 21 in terms of the chances you have to receive any given card on any given draw. There are several kinds of online blackjack available, and there are also regular online blackjack tournaments you can join.
Unfortunately not. While the site does offer online video poker, that's not the same thing as a real online poker room. If you'd like to join a legitimate online poker room, our Bovada Casino review and BetOnline Sportsbook review both feature in-depth discussions about those operators' offshore poker options.
Yes! You can find several different Slots LV bingo games in the site's "Specialty" category.
Absolutely! SlotsLV offers free "practice mode" or "fun mode" versions of all the online casino games in their library, and you don't even need an active membership to play.
Slots.lv Live Dealer Games Reviewed
The best offshore casinos all host live-dealer games, which has been the most popular trend of the last half-decade. Live casino games allow players to enjoy life-like Vegas experiences no matter where they are, with streaming video and audio that puts them front and center before a live dealer.
Live chat functions allow players to communicate with the house, other players at the table, and more.
While you need to abide by a basic set of rules and mind your manners, as long as you behave yourself, you'll always have a seat at the live blackjack tables, live roulette tables, and live baccarat tables. Slots LV live-dealer casino games are open 24/7, and you can watch the action whether you're actively betting or not.
Slots.lv Live Casino FAQ's
SlotsLV live-dealer blackjack is fair and transparent, as players can watch every shuffle, deal, and flip in real-time. Visionary iGaming blackjack dealers are actual casino employees trained to provide players with a true-to-life retail gambling experience over the Internet.
Bovada live 21 is absolutely fair. Cards are automatically shuffled and dealt from an eight-deck shoe right in front of you, and there's no way for your dealer – or for you! – to cheat.
You can pick from several different table limit game sessions among the following real-money live-dealer casino categories:
Live-Dealer Blackjack
Live-Dealer Roulette (American)
Live-Dealer Roulette (European)
Live-Dealer Baccarat
Live-Dealer Super 6 (aka Mini-Bac, Punto 2000)
No. Live-dealer casino games are available only to paying customers, as the site's dealers and croupiers are real salaried staff. However, while you can't play free live-dealer games, you can spectate all the games offered to learn the ropes before risking actual cash.
Slots.lv Offshore Casino Banking Options Reviewed
Before you can play real online casino games hosted by any reputable service, you'll have to make a deposit. Remember, like all the best offshore gambling sites, Slots LV does not extend credit to players.
While some might call this a significant drawback compared to retail casinos that do extend credit to VIP members, it's not. It's a huge win. This guarantees that you'll never risk more than you can afford to lose, and it gives the responsible gaming movement a real shot in the one-armed bandit.
On the other hand, of course, it has to be easy to make initial and repeat deposits, or else nobody would join and play long enough to win big. To that end, SlotsLV offers several US-friendly offshore gambling deposit options that help navigate the federal UIGEA banking regulation, so players can get their accounts topped off reliably, quickly, and securely.
These primarily include credit/debit cards such as Visa, Mastercard, and American Express, and cryptocurrencies such as Bitcoin, Bitcoin Cash, Litecoin, Ethereum, Tether, and Bitcoin SV (VIP members only). SlotsLV also supports player-to-player online casino vouchers. However, established members – or those players simply unable to use these avenues – can contact Slots LV customer service for more options (such as bank wires, cashier's checks, etc.).
Of these options, of course, we recommend using cryptocurrency if you can, as crypto gambling gives players the most overall value out of all banking options. First-time players can quickly buy Bitcoin with which to gamble by using the Zelle-to-Bitcoin method or Cash App Bitcoin exchange.
Slots.lv Casino Deposit And Withdrawal FAQ's
Once you put in your withdrawal request with the operator, you'll receive your winnings in a timeframe dependent on the payout method employed. Crypto pays out same-day, vouchers pay out in 1-2 days on average, and courier checks and bank wires take 3-7 days to clear.
Usually, but there are caveats. Slots LV accepts Visa, Mastercard, and American Express, but the site does not take Discover at this time.
Additionally, when making a supported credit card or debit card deposit, your transaction may be declined due to the UIGEA. This happens about 5-10% of the time.
To avoid any snags like this, we strongly recommend using cryptocurrency for all offshore gambling banking.
The best way to top off your account at SlotsLV is to use cryptocurrency. Crypto gives you access to rapid transfers with no added fees, enhanced offshore betting bonuses, and same-day payouts.
At SlotsLV, those who use crypto to gamble also get other perks, including access to the site's Premium Bitcoin-Exclusive Membership tier.
Slots.LV accepts Bitcoin, Bitcoin Cash, Litecoin, Ethereum, Tether, and Bitcoin SV, though Bitcoin SV is limited only to VIP players.
While all crypto coins come with the same benefits when used for legal offshore gambling online, they each have their own strengths and weaknesses.
Bitcoin and Ethereum have the best investment potential but also come with the slowest transaction times (30-60 min.) and the highest native blockchain fees.
Bitcoin Cash occupies a nice middle ground for all of the above, and Litecoin – our top pick – is the fastest and cheapest crypto platform around.
Using Cryptocurrency At Slots.lv Casino
The top offshore gambling sites all accept cryptocurrency, and it's the recommended way to wager. Because crypto legally sidesteps the UIGEA and cuts down on actual transaction costs to and from your betting site, both players and operators prefer this banking option above all others.
Crypto deposits are quick, there are no middlemen involved at any stage, they come with the best possible offshore casino bonuses, and they allow players to claim same-day payouts. All other online gambling withdrawal methods take 2-7 days to process and come with added fees. Meanwhile, crypto transfers – depending on the coin you use – have no added fees and process within 5-60 minutes.
Crypto payouts must be approved by Slots LV whenever requested, but this process takes 1-2 hours on average (and is often instantaneous for smaller casino cashout requests).
SlotsLV supports these popular cryptocurrency payment options:
Bitcoin Cash (BCH)
Litecoin (LTC)
Ethereum (ETH)
Tether (USDT)
Bitcoin SV (BSV, VIPs only)
Benefits Of Crypto Gambling At Slots LV
Fast deposits with no added fees (5-60 minutes)
100% offshore casino deposit success rate – No UIGEA interference
Upgraded online casino bonus options
Guaranteed same-day payouts (1-2 hours)
Gambling balance increases when crypto price goes up
Investment-grade financial option – Secure your future!
Slots LV Premium Bitcoin-Exclusive Membership
Slots LV accepts several major crypto coins, but the site still prefers its members to do all their gambling using Bitcoin. That's why they've launched a free account upgrade for all members who decide to bet with crypto exclusively.
The Slots LV Premium Bitcoin-Exclusive Membership offers the following benefits for all players:
250% Deposit Match Bonus Per Weekly Deposit – Up To $500
25 Free Spins Per Weekly Deposit – $30 min.
15,000 MySlots Rewards Points Per Weekly Deposit – $30 min.
Fortunately – and this is a relatively new development we just came across when writing this Slots LV review – you don't actually have to deposit in Bitcoin to take advantage of this offer. As long as you deposit using Bitcoin, Bitcoin Cash, Litecoin, Ethereum, or player transfers/vouchers, you can upgrade your account. The sole caveat is that you cannot credit your deposits in mBTC (milliBitcoin). Instead, your deposits must be converted to USD in order to be eligible for the Slots LV Bitcoin-Exclusive Membership plan.
Slots LV Casino Bonus Review
In addition to the above Bitcoin-Exclusive membership plan, SlotsLV offers several different bonus options to all its players. While the bonuses at the site are somewhat limited compared to the countless daily and game-specific offers at select competing vendors, they're still worth a look.
And because each Slots LV promo comes with fair, attainable playthrough requirements (aka rollover requirements), we actually recommend them to players of all stripes. After all, when you're playing slots, the whole point is to hit the jackpot, so you might as well hit it right off the hop!
Slots LV Welcome Bonus – 200% Up To $5000
Slots LV Crypto Welcome Bonus – 300% Up To $7500
Slots LV Daily Double Up – 100% Deposit Match Up To $100
Slots LV Crypto Daily Double Up – 150% Deposit Match Up to $500
Slots LV Refer & Earn Bonus – 100% Up To $200
Slots LV Refer & Earn Crypto Bonus – 100% Up To $200 + $25
Slots LV Monthly Crypto Giveaways – Terms Vary Per Contest
SllotsLV Bonuses And Promotions FAQ's
Offshore gambling no-deposit bonuses used to be available across the Internet, but those days are largely over. You may occasionally come across a no-deposit online casino bonus code, but more often than not, these are badly out of date.
Instead of no-deposit bonuses, most offshore gambling sites now simply attach tiny minimums to their bonus-eligible deposits. This way, you can put $20-$50 into your offshore account and get a decent bonus to go along with it.
SlotsLV makes use of bonus codes for some of their gambling promos, but these aren't difficult to find.
In fact, the site publishes all its online casino bonus codes right in their up-to-date "Promotions" section.
When making a deposit with the vendor, bonuses are typically presented via an opt-in toggle.
However, seasonal or one-off bonuses – i.e. limited time casino bonus offers – may require a promo code, which you can find in the Slots LV Promotions section.
Most of Slots LV's casino bonuses come with playthroughs or rollover requirements of between 10X and 35X.
Some sites make their casino rollovers 50X or more, but SlotsLV's terms are consistently among the most attainable across the board.
Slots LV offers players a wagering contribution chart to show them exactly what percentage of their bets apply toward satisfying bonus rollover requirements.
In general, here's the breakdown:
Slots, Keno, Specialty Games, Scratch Cards – 100%
Pai Gow Poker, TriCard Poker, Let 'Em Ride,
Caribbean Poker – 20%
Video Poker, Classic Blackjack, Baccarat – 10%
Single-Deck 21, Double-Deck 21, Roulette – 5%
Live dealer games, craps, and the "Super Diamond Mine" progressive slots game do not contribute to wagering requirements at Slots.LV.
Slotslv Rewards Program Review
Most offshore casino sites offer player loyalty programs, and Slots LV is no different. The site's MySlots Rewards Program is offered by default to all players, as there are no required commitments to participate.
MySlots Rewards can be redeemed for cash bonuses at any time, and for every new tier or rewards level you unlock, you'll get bigger and better prizes. You can also unlock the exclusive Bitcoin SV (BSV) payment option once you reach a certain level, which offers new perks all its own.
Slots.LV Loyalty Rewards FAQ's
MySlots Rewards are earned automatically whenever you play at Slots LV, and the more games you play, the more rewards points you earn. It's that simple. As a player, there's nothing you need to do to sign up, as all site members are automatically enrolled in the plan.
There are also no requirements and no "fine print." The bonuses and other perks you earn via the program can be redeemed or ignored at your discretion and have no impact on your regular gambling activities.
While your MySlots Lifetime points never expire, your MySlots Rewards points will expire after 12 months if not redeemed. All MySlots Rewards bonuses carry a 10X rollover requirement.
There are eight MySlots Rewards levels::
Cherry Boom (0-2499 points): 2500 points = $1 bonus cash
Candy Wrap (2500-9999 points): 2250 points = $1 bonus cash
Triple Charms (10,000-59,999 points): 2000 points = $1 bonus cash
Wild Jacks (60,000-149,999 points): 1750 points = $1 bonus cash
Dollar Rush (150,000-499,999 points): 1500 points = $1 bonus cash
Lightning Blitz (500,000-999,999 points): 1250 points = $1 bonus cash
Gold Frenzy (1,000,000-2,499,999 points): 1100 points = $1 bonus cash
Diamond Flurry (2,500,000+ points): 1000 points = $1 bonus cash
You earn MySlots Rewards points by playing the various electronic casino games at the site. These include slots, table games, specialty games, and video poker games. The following games contribute to your rewards points at the varying rate:
Video Poker : 1 point per $1 wagered
Table Games: 1 point per $1 wagered
Slots Games: 5 points per $1 wagered
Specialty Games: 15 points per $1 wagered
Please note that live-dealer games do not accrue MySlots Rewards points.
MySlots Rewards points can be redeemed as cash bonuses to be used toward any online casino game offered by the site (normal bonus terms and conditions apply). You will also occasionally be gifted various special bonuses depending on your rewards level, so keep an eye on your Slots LV account inbox!
You can access your MySlots Rewards status and claim your accrued bonuses at any time via your Slots LV user account portal.
Slots LV Mobile Casino Review
The mobile casino options at Slots LV are more than adequate, as the site has one of the better "small screen" interfaces in the industry. While not quite on par with the likes of Bovada Mobile, SlotsLV Mobile offers player a device-agnostic experience with all the site's desktop features available on the go.
You can use any modern iPhone, iPad, or Android device to play mobile online casino games at Slots LV, and provided you have a decent cellular connection and up-to-date mobile browser, you can play from anywhere. There's no geo-fencing, nothing to download or update, and everything is optimized for intuitive touchscreen play.
That said, we generally prefer to play on our iPads, as the larger screens make everything come to life that much more. Still, the games on offer work well no matter how big (or small!) your screen is, so you shouldn't need to shell out for a bigger, better mobile device. Save those winnings for better things, like more betting!
SlotsLV Mobile Casino FAQ's
There is no Slots LV iPhone app or Slots LV Android app to download, as Apple and Google do not allow legal offshore gambling products on their digital storefronts.
Instead, all you need to do is visit the site via your mobile device of choice, and you'll be automatically delivered an app-like, touchscreen-optimized mobile gambling interface with all the games and features you expect.
Yes! Any iPhone manufactured within the last 5-6 years should be able to load all of SlotsLV's games and live-dealer options with ease.
At Slots LV, iPads are our devices of choice, as the bigger screens and louder speakers makes every jackpot pop. Any iPad should be able to run all the site's offerings without any lag or loading issues, with the exception of very old early-gen models.
As with iPhone and iPad, SlotsLV is fully compatible with a vast range of Android devices. Unless the phone or tablet you're using is an extremely cheap budget model or more than 4-5 years old, you should have no problems logging in and enjoying the full range of available offshore gambling activities.
All the online gambling games you'll find via SlotsLV's desktop experience are available via mobile, including live-dealer casino titles.
Slots.lv Customer Service & Contact Information
We've been playing at Slots LV regularly for several years now, and we've never actually had to contact customer service with a real issue. However, in the interested of testing their response times and professionalism, we did contact them with general questions and "concerns" through each avenue offered.
Overall, we've found that Slots LV live chat is the fastest way to get in touch with the site's help staff, though only English is currently supported. Ditto for the Slots LV help number. If you don't happen to speak English, using the on-site email contact form is your best option.
Note: Live chat is instant, telephone assistance typically takes 5-10 minutes, and email assistance can take up to 48 hours.  
Slots LV Phone Number: 1-855-446-3770
Slots LV Email Address: On-site form
Slots LV Live Chat: On-site, 24/7
Slots.lv Casino General FAQ's
Absolutely. If you live in the United States, it is 100% legal to access Slots LV for real-money online gambling action.
That being said, the site is technically barred by the state of Washington, as WA has various laws against all forms of online gambling.
While we've never heard of a single WA resident getting fined or arrested for gambling online – and despite the fact that Slots LV actually accepts players from the state – we must advise you to follow all local gambling laws and abstain if you live in Washington.
Currently, SlotsLV does not accept residents from the following states: •
Delaware
Maryland
Nevada
New Jersey
New York
Slots LV was launched in 2013 and has been in constant operation ever since.
Slots LV is an independently owned and operated online iGaming site with no "sister sites," partner brands, or sub-brands at this time.
Slots LV is a legitimate, reputable online gambling operator in the offshore gaming industry. The site operates in full compliance with all industry best practices and has been held in high regard since its 2013 launch.
Slots LV is based in Costa Rica, Central America. Costa Rica is well-known as an international online gambling jurisdiction, and all sites operating from the nation are authorized and scrutinized by the Costa Rican government along with various third-party industry watchdogs.
Of course! If you want fake online gambling apps, you can stick with those casino-themed video games in the App Store or on Google Play. Amazingly, that market is enormous, and millions of people play simulated casino games with zero possible chances to earn real-money payouts.
We don't advise going that route, because SlotsLV payouts are real and the site offers almost all its games in "Practice" mode, so you can play for free. Slots LV doesn't charge fees via micro-transactions or IAPs for extended play sessions, either, and you can actually win actual cash when you finally decide to pony up.
Definitely not. If you come across any so-called "Slots LV scams" when reading various Slots LV reviews online, pay close attention to what the site is advertising, because they're usually talking up a competitor. Dishonest online casino reviews hurt the market, and we're not into that.
On the other hand, if you see any mention of "Slots LV scams" on the Slots LV reddit page or similar online forums, these are always – and we mean always – posted by frustrated players who have unfortunately not understood how online gambling bonuses work and who haven't met their rollover requirements. As long as you follow the site's easy, straightforward rules and regulations, you have absolutely nothing to worry about.
The best online gambling payouts – at SlotsLV or anywhere else – are available exclusively via cryptocurrency. Crypto allows players to claim same-day payouts, with winnings delivered in as little as 5-60 minutes depending on the coin you choose.
Slots LV currently supports Bitcoin, Bitcoin Cash, Litecoin, and Ethereum, though our top choice as of late 2021 is Litecoin. Litecoin offers online gamblers the fastest transfers and the cheapest blockchain transaction fees of any supported crypto coin.
Yes! There are no fees for joining Slots LV or for enrolling in the MySlots Rewards program. Any outlet that claims otherwise is pulling your crank!
Yes. All Slots LV deposits carry a minimum rollover or playthrough requirement of 1X. This means you must turn a handle of your full deposit amount before you'll be eligible to claim any payouts. This is standard at all legal offshore gambling sites.
That said, if you accept any optional SlotsLV promos or bonuses, the free plays credited to your account come with higher wagering requirements to be aware of. However, these are fair and attainable for the vast majority of players, so we always recommend accepting bonuses whenever possible.
In many ways, all the best US casinos operating legally online have significant similarities. All their games are certified for fair iGaming compliance and are developed by the best casino software companies in the industry, and they all offer mostly the same banking options.
However, every site is different, too. Slots LV, naturally, emphasizes electronic online slots and online slots tournaments, while giving other traditional casino players plenty to choose from. Although the site features no online sportsbook or online poker room (Bovada is our top pick for an "all-in-one" offshore gambling destination), the Realtime Gaming and Rival Powered games at Slots LV are well worth your consideration.
Nope! There are no downloads required to use Slots LV via desktop or mobile, as the entire site's gaming suite is accessible right through any modern web browser.
We recommend Safari for Mac, iPhone, and iPad gamblers, and we recommend Google Chrome for PC and Android gamblers. (Firefox is also a great option for players on all platforms.)
Please be sure to make sure you're always using the most up-to-date version of the browser in question, and please also be sure that your computer or mobile device is running the latest OS release.
SlotsLV.com is a whole bunch of cyber-squatting nonsense. If you type this into your browser and follow any of the links provided, you're going to get spammed with popups and endless ads.
Stick with the links provided here if you want a genuine online gambling experience with the legitimate Slots LV site.
"Slot LV" is a typo, and just as with the URL above, if you type that into your browser, you're going to get a landing page full of shady links and spam.
If you come across any mention of "Slot LV mobile" online, this is a typo, as well. Most likely, the post in question is discussing the legitimate Slots LV mobile portal, which we outline in greater detail in our review above.