The Lowdown On Legal Offshore Gambling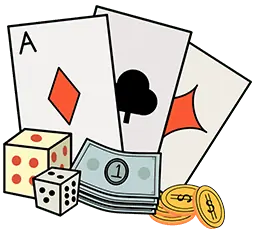 Welcome to legaloffshoregambling.com! We created this site so US players can learn how to gamble online legally via an offshore site.  Our guide will cover online casinos, poker sites and sportsbooks, all of which are legally licensed and regulated offshore gambling sites.
We also provide information regarding the relevant laws that apply to gambling and sports betting in the United States, how to deposit and the latest news and headlines from the industry. You can trust our website to offer accurate information and to only recommend the most reputable offshore sites in the industry.
Rest assured, we only recommend trusted online gambling sites that have a proven track record for being fair, honest and transparent while also offering reliable payouts.
Best Offshore Gambling Sites For USA Players In 2022
There are a lot of offshore gambling sites available to players, but not all of them are legal. It's also hard to know which sites can be trusted to be fair to players and payout winnings like they should. Our team of industry professionals have vetted many of these sites to determine if they have proper legal licensing and regulatory oversight, a strong security profile, premium gaming options and betting lines and additional features for bettors. Our top picks for US bettors can be found in the table below. Each of these offshore gambling sites have met our list of criteria for reputable businesses.
Frequently Asked Questions About How To Gamble Online Legally Via An Offshore Site
Can US Players Legally Enjoy Offshore Online Casinos?
Absolutely.  There are not any US federal laws that prohibit Americans from participating in real money gaming, such as blackjack, roulette, slots or video poker at legally sanctioned offshore casinos online.  There are a number of industry leading destinations that welcome US players with open arms.  Our offshore casinos section offers detailed insight into the legalities and nuances relevant to this type of gambling entertainment.
Is It Legal For Players In The United States To Participate In Real Money Games At Offshore Poker Sites?
As long as American poker players limit their gaming action to those destinations that are legally licensed, regulated and located offshore, playing real money poker will not be a violation of any type of US gambling laws (residents of Washington state are the exception). Learn more about the legalities and opportunities surrounding US friendly legal offshore poker sites.
Is It Possible For Americans To Bet On Sports At Offshore Sportsbooks Without Breaking The Law?
Online sports betting is the one Internet gambling entertainment venue that federal laws specifically address.  The fact that US based online sportsbooks are illegal has largely driven the popularity of offshore sportsbook sites among fans in the United States.  There are no USA offshore gambling laws that prohibit US residents from placing bets at legally licensed and regulated offshore sportsbooks.  You can learn more about your option from our guide to understanding offshore sportsbooks.
What's the Difference Between a Legal State Regulated Gambling Site and Offshore Gambling Site?
A legal state regulated gambling site is exactly what it sounds like. Thanks to a Formal Opinion issued by the Department of Justice regarding the Federal Wire Act, states have the right to have online gambling sites if they choose to do so. These domestic-based sites would be regulated by the states they operate in and would only be open to the people who live within that state's borders. New Jersey is an example of a state like this and New York is in the process of opening something similar.
Offshore gambling sites are legally sanctioned and regulated by their presiding government. If you find yourself in a state that doesn't have state regulated gambling and you wanted to participate, an offshore gambling site would be your best bet regarding legality and safety. These sites have premium betting lines with their sportsbooks, similar to the ones you would find in Las Vegas sportsbooks. They also have top quality online casino games and poker rooms. The only real difference is that these sites operate offshore and are regulated by another country's government as opposed to a domestic state here in the US.
Is Gambling for Real Money at an Offshore Site Legal for US Players?
Yes. You can bet real money with these offshore gambling sites because they are legally sanctioned and regulated. The only condition is that you are limited to certain deposit and payout methods depending on which site you use. The more common deposit methods include credit/debit card, money transfers and crypto (Bitcoin, Bitcoin Cash, Litecoin, Ethereum, etc.). For payouts, money transfers and crypto are usually the most common. However, these options vary per site.  You can learn more in our deposit section.
Which Specific US Gambling Laws Affect Betting Offshore?
While there are several federal laws in place, none really affect betting with legal offshore gambling sites. The Federal Wire Act makes it illegal to place bets with US based online sportsbooks. The Professional and Amateur Sports Protection Act (PASPA) makes it illegal for all but four states to have some form of state regulated sports betting. The Unlawful Internet Gambling Enforcement Act (UIGEA) monitors banks and other financial institutions in how they process transactions associated with illegal gambling. Again, none of these laws pertain to legal offshore gambling, only illegal US based online gambling. More information can be found in our offshore gambling laws guide.
Who Regulates These Offshore Gambling Sites?
It depends on which site you use. Bovada Casino is regulated by individual audits and local gaming regulators. BetOnline sportsbook and casino operates out of Panama City, Panama, and is strictly regulated by the Panamanian government. SportsBetting is also operating out of Panama (and Antigua) and is regulated by their government. These are just a few examples of legitimate gambling jurisdictions that provide regulatory oversight for the industry.
How Do I Know if a Particular Site is Safe or Reputable?
The site should have some information on how they operate, as they'd like to ensure you are comfortable with them from the beginning. The site will also have favorable offshore gambling reviews discussing their practices, gaming and betting options, payouts and more. Our team of industry professionals have put together this list of reputable online sites after carefully vetting them. The main thing you want to look out for is whether the site is legally sanctioned and regulated.
Will I Definitely Get Paid When I Win?
Yes. These sites are known for their speedy and reliable payout methods. As mentioned earlier, the payout methods vary per site, but you always get your money when you make a withdrawal from your offshore gambling site account. You can find more information about this in our Banking section.