Cafe Casino – as you might expect – is a playful callback to the early 2000s "Internet café" casino phenomenon. The difference is that those café casinos were untrustworthy and illegal while this Cafe Casino is reputable and operates in full compliance with international gaming regulations. Of course, like our other reviews of legal offshore online gambling sites, our updated CafeCasino review for 2022 isn't just about legality, because basic legality is pretty low-hanging fruit. It takes a lot for a legit online casino to stand out these days, especially with all the competition in the legal offshore gambling market.
That's why our 2022 Cafe Casino review covers not just legality but also legitimacy, reliability, game selection, software, ease of use, and more. With our review of the Cafe Casino online gambling site, we aim to answer every possible question you might have about the venue. So, just how refreshing is this online betting destination? Put on a pot of coffee, kick back, and read on to find out!
Is Cafe Casino Legal For US Players?
Yes! In the United States, gambling laws are targeted at non-regulated domestic operators and financial institutions that "knowingly facilitate" business with such entities. US gambling laws do not target individual players in any way, and there's no record of anyone ever being cited, fined, or arrested for playing with a legit online casino like Cafe Casino.
That said, one state – Washington – does have nominal laws barring all online gambling. And while the penalties are minor and the law is apparently totally unenforced, we must insist that if you live in WA, you abide by all local mandates.
Otherwise, as long as you're at least 18 years of age, you're free to create your Cafe Casino login, deposit some funds into your account, and play all the real-money online casino games you want.
Note: As of 2022, this operator does not accept players from DE, MD, NJ, NV, or NY.  
---
Our Cafe Casino Review Criteria – How We Rate Cafe Casino LV
There are plenty of Cafe Casino reviews on the Internet, but most of them are just summaries of site features and lists of available games and gambling markets. They don't really tell you much about the experience of actually gambling with the site. That's where we change things up.
At Legal Offshore Gambling, we're members at every single site we review and recommend, and we've spent the last few decades sorting through the good, the bad, and the ugly in the online gambling world. As such, we know all the features to expect out of a first-rate online casino site, and we know all the red flags to expect out of a last-rate online casino scam.
Here are a few of the most important factors we investigate before giving any offshore gambling venue our stamp of approval:
Legality and legitimacy
Longevity in the industry
Online reputation
Security profile
Customer support
Casino game selection
Casino game software
Mobile compatibility
Live-dealer professionalism
Traditional banking options
Crypto banking options
Payout speeds and fees
Bonuses and promotions
Rollover/playthrough fairness
Extra features
Extra betting markets
+ More!
Why You Can Trust Our Legal Offshore Casino Review Of Cafe Casino
There are plenty of Cafe Casino reviews out there, and many are decent enough. However, most of these aren't actually real gambling site reviews at all! Instead, they're just glorified site summaries rehashing features that are openly advertised on the sites themselves. Often, it's clear that the reviewer didn't even gamble at the site he or she is reviewing.
Well, we don't work that way. Our 2022 Cafe Casino review isn't just a 2021 Café Casino review with a few dates changed for the web crawlers. Instead, we've been playing at the site for ages – including nearly every day since the first of the year – to put together our latest takes on all the site's gaming options, and we follow this same model for all the legal offshore gambling site reviews we publish.
We're also not trying to sell you a bunch of nonsense, here. We've been gambling on the Internet since the late 1990s, and we know what to look for in a reputable offshore betting site. We also know what you might not know to look for. That's why we do what we do.
Bottom line: We love gambling, and it's important to us that the online gaming community grows the right way, with the best sites being rewarded and the bad actors getting pushed to the wayside. We're transparent, and we expect the best offshore gambling sites we review to be transparent, too.
Play Now
---
Cafe Casino Software And Interface
Overall, we think the site's UI and UX are pretty top-notch. The venue's not the best online casino from a navigation and menu perspective, but it's simple enough to navigate on both desktop and mobile, and the overall design is inoffensive and unobtrusive.
With darker backgrounds and a neutral grayscale presentation, Cafe Casino is easy on the eyes, which is especially welcome when we're playing in dimly lit or dark rooms (which is, apparently, pretty often). Otherwise, though, there's nothing to write home about.
Everything is where it should be, with the games front and center and navigation bars across both the left side and bottom of the display. You can access your account portal at the top right of the screen, and that's basically all there is to it.
Of course, when you launch any Cafe Casino game, the game software itself takes over, and you'll get a full-screen gaming experience with all the sights, sounds, and animations you expect.
Cafe Casino Games Review
Cafe Casino has a huge selection of electronic online slots and electronic casino table games (i.e. online blackjack, online roulette, online keno, craps, baccarat, bingo, etc.), although the emphasis – as with other competing sites – is necessarily on slots.
And we'd complain about that if we didn't actually love slots quite so much. As it stands, with over 100 different slots across standard online penny slots, 3-reel slots, 5-reel slots, progressive payout slots, and more, we've got no complaints in the game selection department.
Yeah, we've seen other online casinos with more games and with titles developed by gambling houses other than Realtime Gaming (RTG), but this is an RTG casino.
Luckily, RTG is about the best casino software developer in the online gambling industry, and they've been crafting quality real-money gambling games and casino sims for nearly three decades. We'll take quality over quantity every time.
Cafe Casino Games FAQs
---
Cafe Casino Live-Dealer Review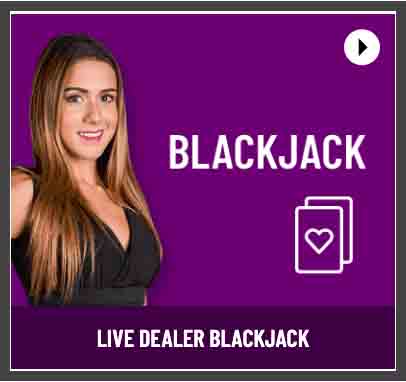 Like any legit online casino, Cafe Casino isn't just an electronic online casino. It's also a fully-featured live online casino. With a dozen or so live-dealer tables active at any time, you can take a break from the RNG action to enjoy some actual human interaction. You know, if that's your thing.
(We admit to leaning on the solitary experience of online gambling sims more than live casino games lately, as it's just generally faster to play slots and electronic blackjack, roulette, and video poker).
Here, the live tables cover all the classics – such as live blackjack, live roulette, live baccarat, and live Super 6 – and they're up and running around the clock. If the felts are totally full, you aren't SOL, either, since Cafe Casino live games feature unlimited bet-behinds.
Best of all, if you don't feel like risking real money, the venue's Visionary iGaming live casino suite allows members to watch others risk real money through an exclusive free spectator mode.
Cafe Casino Live Casino FAQs
---
Cafe Casino Banking Review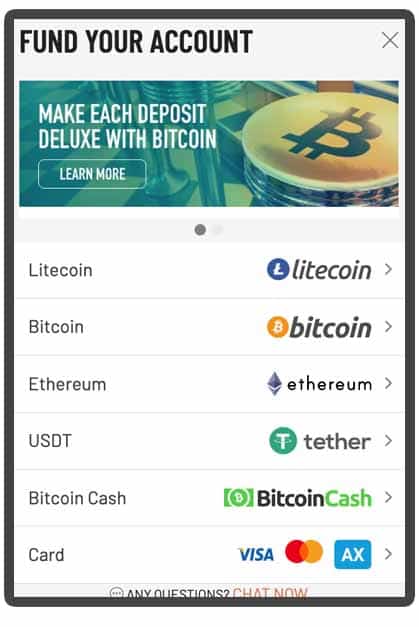 Whenever we review an offshore gambling site that's generally reputed to be trustworthy, the first thing we analyze is the first thing any prospective or new player actually interfaces with: the site's banking menu. In many respects – outside of the quality of the games themselves – an online casino is really only as good as its bet funding options allow it to be.
If a venue only takes credit cards, for example, you're going to run into UIGEA rejection issues as a player. Similarly, if a site limits its crypto selection to Bitcoin, players who are bullish on and use other major cryptocurrencies won't necessarily want to transfer their coins to BTC just to fund their accounts. A good site, then, has to offer several different traditional and modern online banking methods.
To that end, the casino banking options you get here are decidedly middle of the pack. You can deposit with most credit/debit/gift cards except Discover (boo!), and you can use Bitcoin and a handful of other crypto coins. You can also indirectly deposit with PayPal, Venmo, Cash App, Zelle, and various e-Wallet services using Cafe Casino vouchers and the third-party MatchPay service.
Check or bank wire deposits are available upon request (you'll have to contact Cafe Casino customer support), and payouts are handled via crypto, bank wire, courier check, or voucher/Matchpay. Of these, only crypto payouts are fee free and guaranteed for same-day delivery.
Cafe Casino Deposit And Withdrawals FAQs
---
Cafe Casino Bitcoin And Crypto Options
As you can see, Bitcoin and other crypto coins are the preferred way to move money quickly and easily into and out of your online casino account (which is true at basically every legit online casino in the business).
There are considerable perks to using crypto to bet online, and we haven't used any other banking method in years (except for purposes of explicitly testing deposit and payout options in this and other legal online casino reviews).
Benefits Of Offshore Crypto Gambling At Cafe Casino
100% crypto gambling deposit success rate – No UIGEA interference
Better online gambling security and privacy
Guaranteed same-day payouts for all supported crypto coins
Fastest payout online casino options – Get paid in 2-3 hours!
Biggest online casino bonuses and promotions
Bankroll increases in value as crypto prices go up
Investment-grade currency – Grow your money after you win!
Cafe Casino Premium Bitcoin-Exclusive Membership
If you choose to deposit only in cryptocurrency or Cafe Casino vouchers, you can upgrade your account to the free Cafe Casino Bitcoin-Exclusive membership tier. As a reward for kicking fiat money to the curb, you'll get the following:
Weekly Deposit Match Bonus – $200 X3, $600 max per week
Weekly Free Spins – 25 free spins per deposit ($30 min.)
Bonus Rewards Points – 15,000 extra Perk Points per deposit ($30 min.)
Note: To activate your Bitcoin-Exclusive rewards, you'll need to credit all crypto or voucher deposits to your account as USD and not mBTC. This is a little counterintuitive, so be sure to keep it in mind.
Cafe Casino Bonuses And Promotions
There are several valuable Cafe Casino bonuses to choose from, and while the site doesn't require any special Cafe Casino promo codes (you can simply choose your bonus from the promotions menu when depositing into your account), you can still input these promos manually if you ever come across any exclusive online specials.
Bitcoin/Crypto Bonus: 350% Welcome Bonus – Up To $2500 (40X); Café Casino Promo Code: N/A
Standard Bonus: 250% Welcome Bonus – Up To $1500 (40X); Café Casino Promo Code: N/A
Weekly Mystery Bonus: Delivered to your inbox every Thursday
1st Deposit Push: "Fantastic Firsts" – $2000 Weekly Raffle
Refer-A-Friend Bonus: $100 + $25 Crypto Boost (50X)
Note: Any Cafe Casino no-deposit bonus codes you might find online are likely expired, as the venue no longer customarily offers no-deposit online casino promos to prospective members. This is actually a good thing, as we never recommend no-deposit casino bonuses. They always have ridiculously high rollover/playthrough requirements of 80X-100X or more, and standard bonuses are always better.
Play Now
---
Cafe Casino Rewards Program
Cafe Casino has a no-commitment member rewards program called Cafe Casino Perks. You can take advantage of the program or ignore it at your leisure, as there's nothing to opt-in or out of.
You earn Cafe Casino Perk Points by playing online casino games (different games accrue Perk Points at different rates), and those Perk Points let you climb the ladder. The higher you go, the easier it is to earn more Perks, and the better your online casino rewards.
Cafe Casino Perk Points Tiers
Level 1 – $1 bonus per 2500 Perk Points
Level 2 – $1 bonus per 2250 Perk Points
Level 3 – $1 bonus per 2000 Perk Points
Level 4 – $1 bonus per 1750 Perk Points
Level 5 – $1 bonus per 1500 Perk Points
Level 6 – $1 bonus per 1250 Perk Points
Level 7 – $1 bonus per 1000 Perk Points
Level 8 – $1 bonus per 1000 Perk Points
Cafe Casino Mobile Casino App
Like any top online casino, this particular venue is fully mobile compatible and works with all iPhone, iPad, and Android devices. However, there's actually no Cafe Casino app to download from the App Store or Google Play store. Instead, Cafe Casino Mobile is available right through any modern mobile web browser (i.e. Safari, Chrome, Firefox, etc.).
This way, there's nothing to install or update, and you don't have to worry about device compatibility. Because the mobile suite is 100% web-based, the layout automatically conforms to any size of screen. Best of all, mobile Cafe Casino gambling is totally unrestricted with zero geo-fencing of any kind. As a result, you can play all your favorite real-money online casino games no matter where you are in the United States or abroad.
In terms of ease of use, the mobile online gambling experience available here is nearly the same as the experience you'll get through the desktop version of the site, and everything is right where you expect it to be. And, with full touchscreen controls and quick gesture-based navigation, getting to your favorite games is fast and easy.
---
Cafe Casino Customer Service
Cafe Casino Phone Number: 1-888-364-1850
Cafe Casino Email Address: service@cafecasino.lv
Cafe Casino Live Chat: On-site, 24-7