Mybookie Sportsbook Review For 2023
Mybookie Sportsbook
Top Rated Legal Offshore Sportsbook
When it comes to offshore sports betting, US players are definitely catered to by the best sites, though global sports are always co-headliners. One thing we really like about MyBookie is that they seem to put a bit of extra effort into bringing American sports to the forefront. Our MyBookie Sportsbook review shows that even while the operator features plenty of international betting odds, the US market is the obvious focus.
Now, MyBookie doesn't always have the best lines, but they've always got compelling odds that make them stand out from the competition. Additionally, since MyBookie has some really attractive sports betting bonuses with fair, player-friendly rollover limits, those looking for real value can find it easily.
When you compare our 2022 MyBookie review with the other offshore sportsbook reviews we've put together, you'll see exactly what we're talking about. For avid line shoppers and those casual bettors who simply want different, MyBookie is as different as it gets. And that's a good thing!
✔ US-Centric Betting Lines For American Sports Fans
✔ Modern Desktop And Mobile Interfaces For All Platforms
✔An Offshore Betting Top Trusted Brand Since 2014!
✖ Does not accept players from NY, NJ, or NV
Is Mybookie Sportsbook Legal For US Gamblers In 2023?
Absolutely. MyBookie AG Sportsbook is a legal offshore betting site that serves residents in all USA states except Nevada, New York, and New Jersey. While these states have no laws barring access to MyBookie, the limitations are merely reflective of the site's current policies. There are also no federal offshore gambling laws that bar American players aged 18 and up from accessing real-money online sports betting with the operator.
One state – Washington – does have nominal betting laws that bar all online gambling, which includes sports betting at MyBookie. And although these laws have apparently never been enforced and tens of thousands of WA residents visit the venue every day, we must insist that you follow all local gaming mandates.
MyBookie Deposits: How To Fund Your Offshore Betting Account
Before you can wager with any offshore sports betting site, you've got to make a deposit. Luckily, getting money into your MyBookie account couldn't be simpler.
Here's the process from start to finish:
Follow any link here to sign up at MyBookie Sportsbook and click or tap the orange "Join Now" button.
Enter in all required personal information, being sure to use only real, verifiable data. MyBookie utilizes industry standard KYC (Know Your Customer) protocols.
Select a deposit option from the menu (see below).
Follow the directions provided for your deposit type and choose an optional sports betting bonus.
Once your account is credited with funds, you're free to wager on any sports line you wish.
The offshore betting deposit methods supported by MyBookie place the site squarely in the middle of the pack when it comes to the best offshore sports betting sites.
They don't support as many unique funding options as Bovada or accept quite as many crypto options as BetOnline, but they do offer more banking avenues for US players than many other top operators.
Here are the legal MyBookie bet funding options available to US players aged 18 and up:
Bitcoin Cash
Ethereum
Litecoin
Cardano
Solana
Tether
Binance Coin BNB
Dogecoin
Shiba Inu
Cash App-To-Bitcoin
For our money, we prefer to place our wagers with cryptocurrency. Each different crypto coin accepted by MyBookie has its strengths and weaknesses in terms of transaction times and native blockchain fees, but they're all speedy and reasonably inexpensive.
Additionally, crypto deposits can never be rejected by the UIGEA banking regulation, always process in under an hour, come with the best enhanced online betting bonuses, and allow players to claim same-day payouts. Crypto deposits have no added processing fees, either, so you can bet with more, every time.
MyBookie Payouts: How To Request Your Offshore Betting Withdrawals
Claiming payouts from the MyBookie cashier is just as easy as making a deposit, and the process is extremely straightforward:
Navigate to the site cashier and select the "Withdraw" option.
Choose your preferred method of withdrawal. We recommend cryptocurrency, as MyBookie allows members to claim crypto payouts even if they used a non-crypto deposit method.
Follow all the instructions exactly as listed.
Get paid!
The payout options listed below are available to all MyBookie members, regardless of how they initially deposited. Cryptocurrency is the only same-day payout option available, with transactions that are typically processed and delivered within 1-4 hours of your request.
There are also no added fees for Bitcoin/crypto payouts. All other payout methods come with extra processing fees and take 2-7 days before you'll receive your money stateside.
Why We Rate MyBookie Among The Best Offshore Sportsbooks
MyBookie is by no means the perfect betting site because there are no "perfect" betting sites. Each operator has its strengths and weaknesses. That's actually something that's mitigated by the very nature of sports betting (as opposed to different kinds of offshore gambling), since most bettors have memberships at multiple sites for the purposes of line shopping.
And line shopping – more than anything else – is where MyBookie really shines. For any given game, we've found that most legal offshore sportsbooks have fairly similar odds. If the Pittsburgh Steelers are -12.5 favorites against the Miami Dolphins, for example, most sites' odds will fall into that the range, give or take a half-point.
But somehow, MyBookie's odds are always 1.5-2 points different. The same goes for straight moneyline bets, too. It's not uncommon to see favorites trending 10-20 points higher than they are at other sites, while underdogs often payout 10-20 points more. Naturally, this can help or hurt you depending on the side of the line you're taking, but it makes MyBookie an automatic checkdown.
It also doesn't hurt that MyBookie's bonuses are some of the most versatile we've seen, with low, player-friendly rollover rates and enhanced crypto betting promos.
Finally, the site – like all top operators – is fully optimized for mobile with no downloads or updates required, and payouts are always delivered on time and in full.
Why You Can Trust Our 2023 MyBookie Review
There are a lot of legal offshore gambling sites out there, and there are just as many offshore gambling reviews. However, most of these reviews are pumped out by aggregators that haven't actually spent much time with the site in question. Anyone can go over to MyBookie's website, copy down their TOS and site features, and paste it all up as a "review."
But that's not a real review. That's why we actually bet sports at MyBookie, and it's why we've done so for several years before ever posting our final word on the site. We're actual online sports bettors, and we hold active memberships at every offshore sportsbook we recommend.
We also don't hold back on the things that need improvement. Remember, there are no perfect sportsbooks, and sharing information about a given operator's shortcomings is a huge part of why our reviews can be trusted. We want every player to know exactly what to expect.
MyBookie Mobile Sports Betting App Reviewed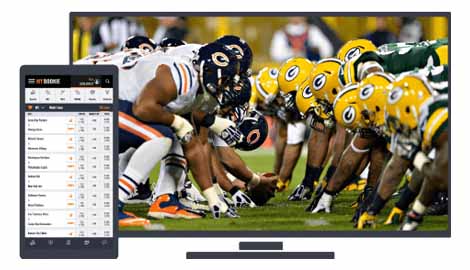 Offshore sports betting apps are the primary delivery method for the industry. Most gamblers these days simply aren't sitting in front of their PCs or Macs and betting on sports. Instead, modern gamblers place their wagers no matter where they are, from the easy chair in front of the big screen to the stadium bench in front of the big game.
With MyBookie's dynamically designed website, whenever you access the betting boards from your mobile device, you get a mobile-optimized interface that fits every make, model, and screen size.
It doesn't matter if you're an iPhone sports bettor or an Android sports bettor. It doesn't matter if you use the smallest handset or the largest tablet. As long as you have a modern mobile device and an active Internet connection, you can wager anytime, anyplace.
MyBookie's mobile experience is on par with its desktop presentation, though there are a few differences. Due to the limited amount of display real estate of your device, the menus are somewhat condensed, and navigation can be a little more "hidden." Things like the site's custom prop builder are arranged slightly differently, too.
Still, the convenience factor trumps all that, and most bettors – even when they're sitting right next to their computers – prefer the MyBookie mobile app experience. We certainly do, and you likely will, too.
MyBookie Prop Builder – Custom Props At Your Fingertips
First introduced last year by Bovada Sportsbook, custom prop builders are all the rage, and MyBookie rolled theirs out in early 2021. The MyBookie Prop Builder – developed by Prop Kingz – is the same service hosted by Bovada and BetOnline, which can be good or bad depending on your perspective.
Because the custom prop tool allows you to create literally tens of thousands of different wagers and parlays for any daily game – and because the Prop Kingz product is so streamlined for desktop and mobile – it's a good thing.
However, MyBookie's biggest strength as an offshore sports betting site is the fact that their odds are so dramatically different from the competition. Unfortunately, that's not the case with the Prop Builder, as the odds therein are the same across all vendors given its third-party plugin nature. That's a bad thing.
This means that for certain props that aren't too specific, you're still better off navigating through the master list of sports betting propositions within each MyBookie line itself.
That said, custom props are much faster to assemble, and they give you far more leeway with your wagers. If you want to buy points or sell points, you can do that immediately rather than wasting time hunting down a dedicated line for the exact spread you're after.
At the end of the day, more options never hurt, though we would like to see some of MyBookie's more differentiated odds make their way into the tool in the future.
MyBookie Offshore Sports Betting Bonuses And Promotions
The bonus options at MyBookie are as good as any you'll find in the offshore online sports betting market. They have numerous different offers for both new and returning members, are one of the only sites in the industry with account reload bonuses available year-round, and have moderate rollover requirements for all their betting promos.
In general, here's what you can expect to find in the MyBookie bonus menu:
100% MyBookie Welcome Bonus – Up To $1000 ($50 min., 10X rollover, MyBookie Bonus Code: MYB100)
25% MyBookie Sports Reload Bonus – Up To $500 ($100 min., 5X rollover, MyBookie Bonus Code: MYB25)
15% MyBookie Crypto Re-Up Bonus – ($45 min., 10X rollover, no MyBookie promo code required)
10% Cash Bonus – Up To $200 ($45 min., 1X rollover, MyBookie Bonus Code: 200CASH)
250% MyBookie Referral Bonus – Up To $250 (no min., 5X rollover, unique refer-a-friend link delivered upon request)
MyBookie Rewards Program - Loyalty Pays At Mybookie
The MyBookie rewards program is one of the most unique in the industry. In fact, we've never seen any other loyalty program quite like this one, and it's exclusive to MyBookie Sportsbook.
However, keep in mind that unlike other sites' rewards points systems, the MyBookie loyalty program is opt-in. If you aren't aware of this, you could easily miss out. So until MyBookie fixes that, be sure to sign up as soon as you make your first deposit.
Here's how the MyBookie My Free Bets Rewards Program works:
Sign up for the program via your MyBookie login landing page.
Place any sports bet of at least $5 to earn one Star. (Note: For a limited time to celebrate the start of the 2021 football season, your first sports wager earns you three Stars.)
Once you collect 10 Stars, you earn a free bet. The free bet's value is the average of the wagers made to earn your 10 Stars.
There are no limits on the number of free bets you can earn this way, and each free bet comes with a 1X rollover.
You can opt out of the MyBookie Free Bets plan at any time. Just remember that prop bets and live sports bets do not earn MyBookie Stars, nor do any wagers graded as "push," "no action," or "suspended action."
MyBookie Crypto Rewards Program
Some legal offshore gambling sites have special crypto-exclusive rewards programs that boost your weekly bonuses and loyalty points every time you make a deposit using cryptocurrency. That's all well and good, but the MyBookie Crypto Rewards program is different.
Instead of rewarding you with extra benefits for crypto deposits (since you pretty much get those, anyway), MyBookie's offer is for those players who deposit using credit and debit cards. In other words, it's an enticement to get members to start using crypto instead of less reliable and more expensive banking options.
There's no other sportsbook deposit offer like this in the industry, and here's how it works:
Make a Visa or Mastercard deposit.
MyBookie automatically adds 10% to your deposit in the form of "Crypto Rewards." (For example, if you make a $100 card-based deposit, you'll get $10 added to the locked Crypto Rewards balance in your account.)
Make another card-based deposit, and you'll get another 10% added to your locked Crypto Rewards balance.
Repeat this as many times as you like.
Now, make your very first crypto deposit with Bitcoin, Bitcoin Cash, etc.
Your locked Crypto Rewards balance is unlocked and added to your account in the form of free plays.
Once your Crypto Rewards balance is released, you'll get all your accrued 10% bonuses added to your regular bonus balance. You can only do this one time, however, so please keep that in mind.
Your free Crypto Rewards carry a 1x rollover requirement, and they can be redeemed in addition to any cryptocurrency deposit bonus you select.
MyBookie minimum betting limits for most sports are set at $2 (or the crypto equivalent), though these can and do change from time to time depending on the sporting event in question. MyBookie maximum bet limits vary to a greater extent, and this also depends on the sport.
For example, most NFL bets have maximum wager limits into the several thousands of dollars, while political or entertainment bets might max out at $250 or $500.
MyBookie also puts limits on how much you can win, though these are exceptionally high. Parlay payouts, for example, are capped at $100,000, and all combined daily winnings are also capped at $100,000. If that's a problem for you, MyBookie probably isn't for you. The Westgate SuperBook in Las Vegas might be more your speed.
Note: While most players place their wagers online, MyBookie still accepts bets via telephone. However, these bets have different limits. If you want to phone in a bet, you'll have to risk at least $100 on any given event, and free plays (i.e. bonus bets) are not eligible for wagers placed by phone.
Sports You Can Bet On At Mybookie
NFL Football
NBA Basketball
MLB Baseball
NHL Hockey
NCAAF College Football
NCAAM College Basketball
Canadian Football
Australian Rules Football
International Soccer
FIFA World Cup Soccer
Winter Olympics
Summer Olympics
Rugby
Cricket
Boxing
MMA
UFC
Tennis
Golf
NASCAR
Motorsports
eSports
Virtual Sports
Politics
Entertainment
Snooker
Darts
Bowling
Cycling
Handball
+More
Live In-Game Betting Options At MyBookie.AG
Live sports betting has become a mainstay over the last few years, and it was pioneered by the best offshore sports gambling sites, including MyBookie. With an always-on Internet connection, live betting allows MyBookie members to place wagers on games as they play out.
MyBookie live odds are constantly updated – often changing every minute – to reflect the on-field or on-court action. If you make a bad bet before a given contest, live odds let you go the other way to mitigate your losses or even turn a loser into a winner for your bottom line.
In sports, anything can happen: ejections, injuries, late scratches, and just plain old bad luck. But with live sports odds, a player's or team's bad luck no longer has to be your bad luck, and that's a huge draw for attentive gamblers.
Of course, to take full advantage of offshore live betting lines, you'll need to pay close attention to every play of the game on which you're betting, and you'll have to move fast. Favorable odds come and go in a snap – literally, if you're betting on football! – and if your head's not in the game, your wallet probably won't be, either.
Additional Gambling Markets Offered By MyBookie
MyBookie RNG Casino – In addition to a robust USA and international sportsbook, MyBookie has a full offshore casino with hundreds of games made by Betsoft. All their titles are fair iGaming certified and regularly audited, with an emphasis on slots, blackjack, roulette, keno, craps, and other time-honored casino classics.
MyBookie Live Casino – Online live-dealer casino play is available at MyBookie, and all the games are powered by Visionary iGaming (ViG). ViG's real-time technology lets you play right in front of actual dealers and croupiers, with online video and audio streaming that's more immersive than ever. The MyBookie live-dealer casino works seamlessly on desktop and mobile with no downloads required.
MyBookie International Racebook – When you want to take a break from people sports and pony up on the ponies, MyBookie Racebook has you – and every notable horse track from the Americas to Asia – covered. There are dozens of daily races to choose from, and you can even place futures bets on major events like the Kentucky Derby, Preakness Stakes, Belmont Stakes, and more.
2023 MyBookie Review Recap – The Final Word On MyBookie AG
MyBookie might be one of the more recent offshore betting sites out there, having been launched in just 2014. However, it's more than made a name for itself in the years since coming online, and more than a million US members call the site home.
We've been gambling with MyBookie AG since the beginning, and we've seen them make all the right moves to establish themselves within the top tier of respected, trustworthy, legal offshore gambling operators.
While US sports is the focus (it is called MyBookie, after all), the venue also features casino and horse racing action for tremendous variety. And just like its online sports betting odds, its online casino suite is very different from those offered by the industry's other big brands.
And that difference is what makes MyBookie stand out. Sure, some aspects of the site could be more balanced and more streamlined. But at the end of the day, when effective line shopping is the difference between a win and a loss, MyBookie is well worth adding to your offshore betting portfolio. And don't let anyone tell you any different!